Back in the post-GDPR summer of 2018, a surprise request for an Account Based Marketing program landed in my inbox.
I remember the excitement of scrolling through account lists. I remember those blue chip logos spinning on my screen like slot machines. I remember finding decision makers on LinkedIn and saving them with cute little footnotes. It was love at first sight.
The most exciting part was absolutely winging it, though this was equally fun and frustrating. I remember saying very mean things to an excel spreadsheet more than once. But let's not dwell on that.
If you've planned an ABM program, you may already know what comes next. Seconds after my spreadsheet scuffle I was trawling Google, on the hunt for ABM templates.
It took almost a dozen downloads before realizing I was on a fruitless search. Should it be content for starters or demos for dessert? Templates couldn't answer strategic questions, they could only help ask them. The more I searched, the clearer it became: there was no one-size-fits-all approach.
There was no secret sauce.
From that experience, I now know two things for sure:
I really shouldn't post when hungry
ABM is a bespoke strategy; a quality-over-quantity approach to B2B marketing & sales. There is no single winning recipe.
Still, there are great menus. I've shared my favourites in the comments below
In the meantime, how do you know you're on the right track? And how can you avoid spreadsheet abuse?
You start by asking great questions.
1: What is my goal?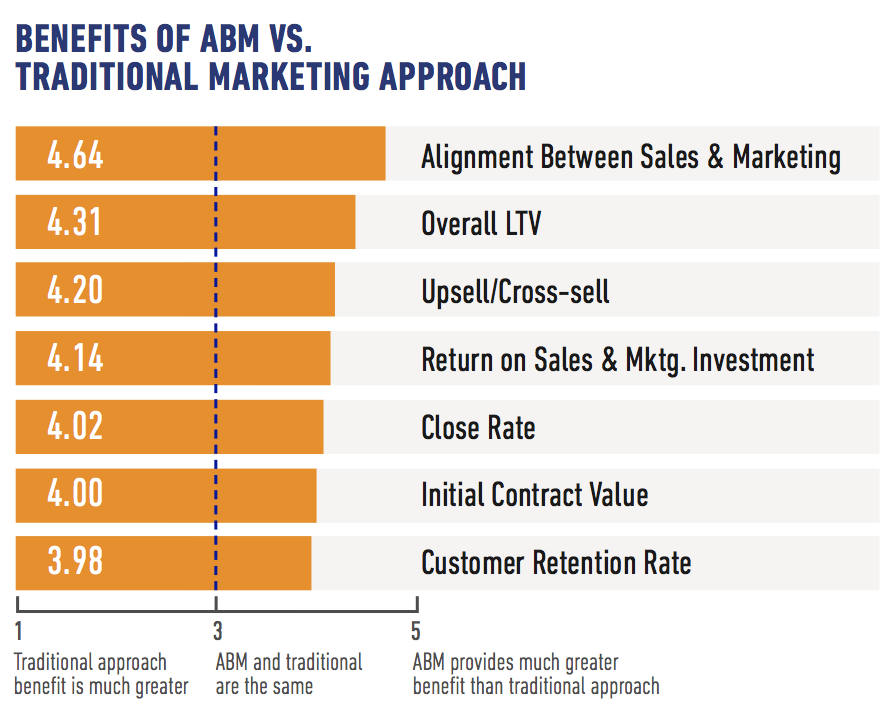 When organizations choose ABM, they're looking for benefits across the board. Besides the primary goal of increasing revenue, it helps alignment between teams, increases retention rate of customers and the success rate of closing new logos. ROI of Sales and Marketing goes up across the board.
Even so, focus is critical. In order to succeed, effective ABM programs need to support business growth in a defined way. Typically, organisations are looking for growth via one of 3 paths: acquisition, acceleration, or expansion:
Acquisition is about conquering new frontiers. This includes finding efficient tactics for breaking into enterprise accounts, increasing reach, or landing in entirely new markets. Key outcomes include:
Awareness for net-new accounts
Meaningful engagement from buying committees
Qualifying market-ready accounts
New logo acquisition
Acceleration focuses on improving the existing sales pipeline. This is all about moving stagnant opportunities forward, and driving urgency to boost in-progress deals. Key outcomes include:
Accelerating pipeline velocity
Improving pipeline close rate
Increasing average deal size
Bringing cold deals back into the active deal cycle
Expansion finds routes for growing existing business. It aims to improve customer retention while growing customer lifetime value. It includes active upselling or cross-sell to existing customers. This may include key account management and strategic nurturing of customers with high potential. Key outcomes include: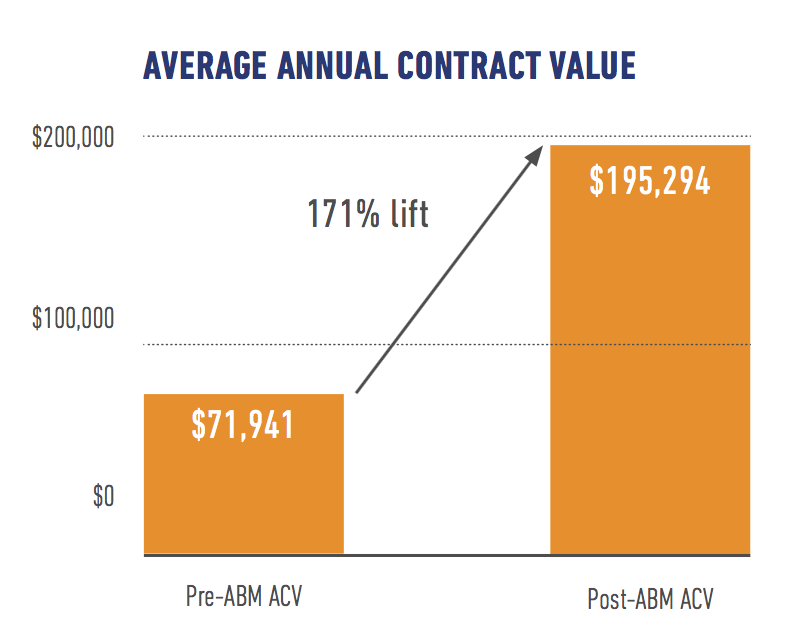 Increasing average contract value with current customers
Improving retention of current customers
Fulfilling expansion potential for enterprise clients
Generating referrals from current customers
And, it really works. From: ABM research alliance ☝
Once a goal is defined, this becomes the north star. It guides relevant metrics to measure, and focuses your efforts on strategic outcomes. While it's possible to have more than one goal, less is more for the sake of a pilot.
Concentration is critical for an ABM pilot: the sun's rays do not burn until brought to a focus.
2. Who is my audience?
Really understanding the goal is a clarity boost for everything that follows. And this is absolutely necessary for the second question of who to focus on. This is the single most important decision in the planning of an ABM program. It's make or break stuff, and deserves a piece of its own. For now, you can do two things to set you ahead:
1.Define your accounts.
Accounts chosen for Acquisition will require well-defined market criteria. We can provide valuable direction in the form of behavioural (intent), and market data. Market data can include headcount, growth stage, industry, geography, number of offices, target market, technology in use, organisational structure and revenue.
Accounts chosen for Acceleration will lean on the sales team for guidance. They will help aim firing support, ensuring it's applied where most needed in the pipeline.
Accounts chosen for Expansion are often a strategic consideration. Selection is done with Account Managers and may even require input from product and executive teams.
2.Craft your personas
It's the right people we're really after. Developing useful target personas will define who we go after and the messaging we put in front of them.
The messaging each persona receives should connect with them based on their day-to-day needs, challenges and goals. It's very tempting to add 'fluff' to fill out a challenging persona – resist the urge! No information is better than misleading information.
Personas covered should include the entire buying unit, not just final decision-makers. The average B2B sales cycle has 6.8 decision makers
Once you have accounts and personas, it becomes possible to define the size of a target audience. This is critical to get right – audience size is the variable that limits or opens up possibilities for an ABM program. Exploring your contactable audience in terms of accounts and personas can be done well on LinkedIn, with some know-how. You could do this yourself, or ask an agency with proven LinkedIn skills to do it for free.
If your audience is smaller than expected, you can explore equivalent titles to make sure all valuable decision makers are being captured. If the audience is bigger than expected, it's always worth taking a closer look at the results. Make sure these are exactly the ones who receive value in your product, and exclude the rest.
Take your time with targeting. Misidrected B2B targeting criteria is the number one cause of wasted marketing spend. We've seen marketers surprised when they learn up to 65% of their ABM spend is being wasted on non-target audiences. When we're delivering personalized messages to your most valued accounts – spending your time on the right people is everything.
3: How deep do I go?
OK, so now we know what we want (question 1). We know who we want it for (question 2). We may even know how many individuals can be reached (if you've defined the size of your audience).
This gives us what we need to decide how we do it.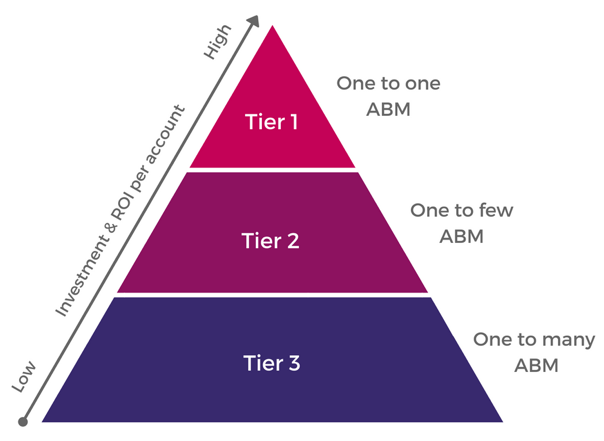 There are three accepted 'tiers' of ABM. When no one's looking, I like to think of these as different settings on my ROI-taser. Each has its own time and place and is chosen for the type of focus needed for a given account.
Generally speaking, it's worth giving more personalisation and focus where you can expect more return.
Research shows 63% of top performers are using at least 2 or 3 types. Organisations using only one type lag furthest behind, which makes sense when you consider how specialised the needs of each account group is. Having 2 or 3 types in play helps organizations dodge the mistake of fitting square pegs into round holes.
This is really about applying the right level of focus on the accounts that need it most. We want to avoid wasting sales resources on low-potential accounts, while we avoid sending generic messaging out to the most valued accounts.
The industry averages below are a helpful reference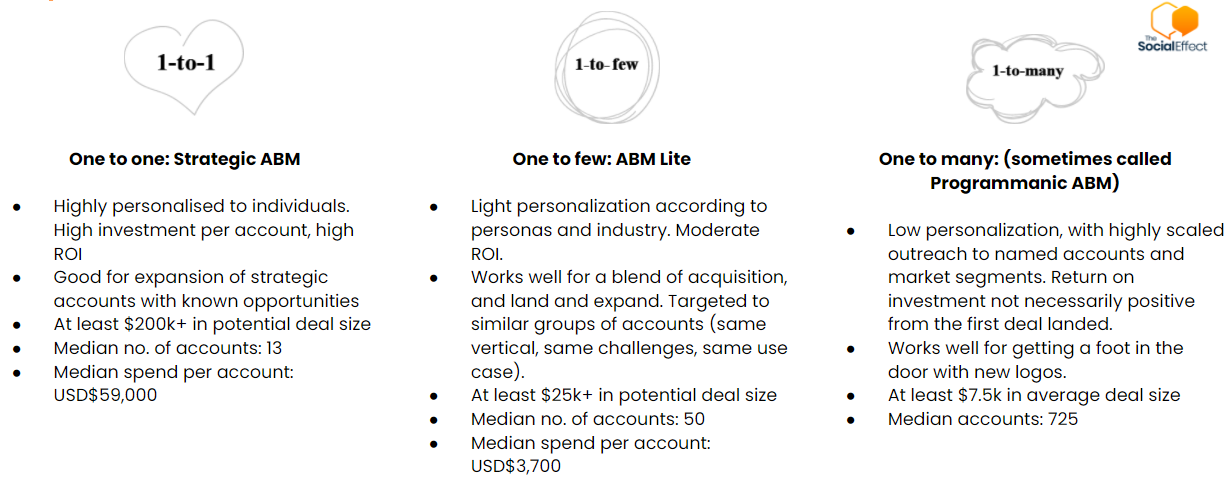 Deal size isn't everything: Strategic considerations.
Putting our executive hats on for a second, let's consider about the long term play.
Beyond revenue, what will landing an account do for corporate strategy? Use questions like the below to catch these:
Are there network effects to be gained (i.e., for marketplaces or platforms)?
How complex is my route to sale? How complex is the product?
How strong is the competition? What is the value of displacing a competitor?
Are we on track for market share targets?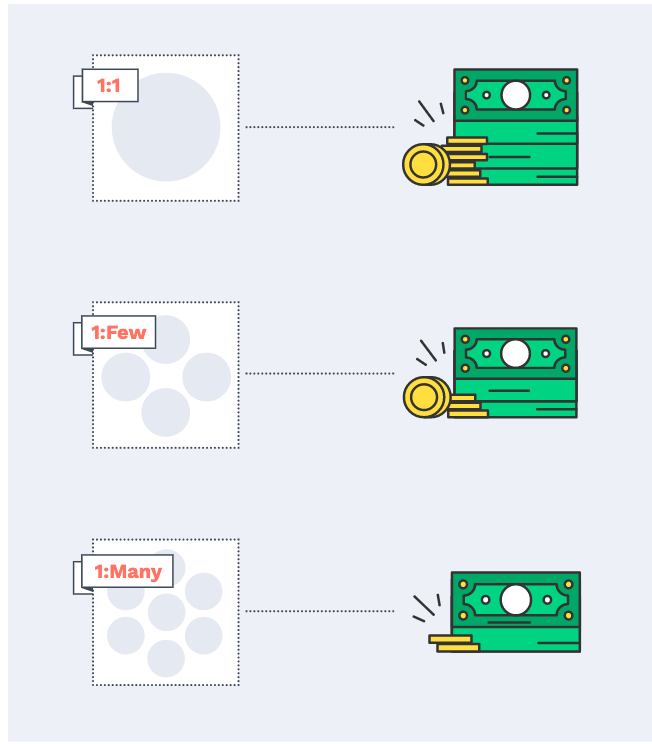 Maybe the most important consideration for the ABM type is internal resource. This is what's needed to execute and scale a pilot – sales resources & marketing budget are commonly overlooked. To gain these, we'll need buy-in across sales, marketing, & executive stakeholders.
4: Can I gain alignment & buy-in?
It's no surprise that ABM is all about sales. What is surprising is just how much of the selling needs to take place internally. Before an ABM program can succeed, you need to be fully aligned with sales & executive stakeholders. There are two major checkpoints in alignment:
Enthusiastic & vocal executive sponsors are on board (one or more)
Sales has adopted and co-owned the ABM program
The single most important decision for both is keeping sales involved from the beginning. Once the sales team sees ABM leads as their ticket for hitting revenue targets, you will not lack action and follow-through. This is good for sales and marketing alignment, and sets you up with a sales champion as your ally. This, in turn, makes executive buy-in that much easier. Once executives see your program as key to achieving their goals, the program will not lack resources.
The most common barrier for adoption is the risk of turning off or detracting from what is already working. ABM is not a replacement for existing lead generation – it's a complement.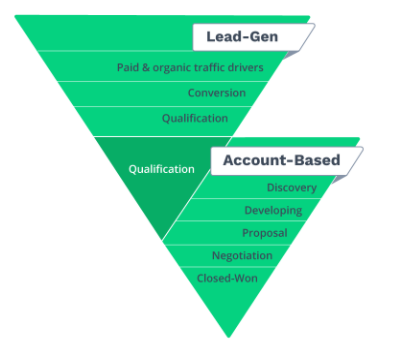 This funnel is a great visual example of the complementary and overlapping role of ABM.
Stakeholders still not convinced? Try one of these juicy stats:
99% of marketers that are doing ABM achieve a greater ROI from their account based marketing programs than all other types of marketing. ITSMA + ABM LA
91% of marketers that use ABM are seeing a larger average deal size, with the increase in deal size over 50% for a quarter of respondents. Sirius Decisions
80% of respondents from a TOPO survey said account based improves the customer lifetime value, improves win rates (86%), and delivers a higher ROI (75%). TOPO
Once alignment is gained, it will take clear communication on progress and proven results to keep it. For this, we need accurate and relevant measurement.
5: Can I measure it?
Measurement is a balancing act. As marketers, we're walking a tightrope between what can and what should be measured. We need high-level reports for measuring ROI, without ignoring the day-to-day analytics that enable optimised campaigns. Account measurement over time is how we show the influence and impact of digital touchpoints. So where do we start?
In ABM, traditional marketing metrics fall second to quality conversations, demos booked, and, ultimately, revenue won. A golden rule is to focus on pipeline metrics over MQLs, which most marketers aim for (From Demand Gen Report)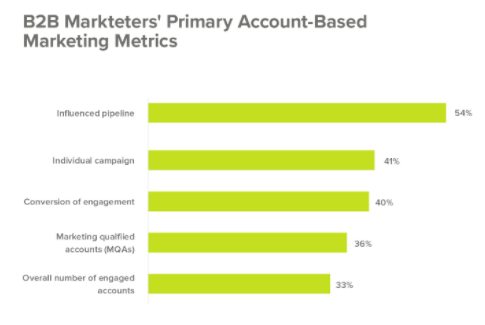 (Good) Total sales appointments generated per lead source
(Better) Total size of opportunities created from target accounts
(Best) Total revenue generated from program
Taking long sales cycles into consideration, revenue is a challenging metric to measure in the short term. In this case, we can step back to consider the leading metrics on our particular path to revenue.
Acquisition: # of accounts with opportunities, quality score of accounts, new contacts acquired, new engagements
Acceleration: re-engaged contacts, close rate, pipeline velocity, average deal size increase
Expansion: new services per account, new revenue per account, retention rate, new referrals gained
Once tied to true north, testing views can be expanded. This is to keep optimisation can be baked into every inch of the recipe. Taken on with an agile mindset, our traditional metrics like impressions, clicks and engagement will help refine the approach to accounts, channels and creatives.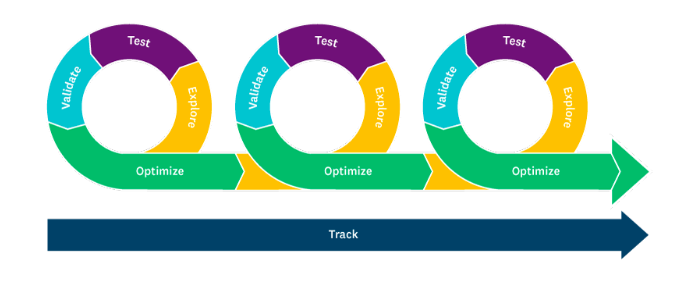 The journey to revenue is a long one, so it's important to keep testing hypotheses around what resonates, and most importantly – why.
6: Can I build it?
Ultimately, the goal of a pilot is to maximise learning while minimising risk.
We're not just looking for tactics which work, we're also identifying areas for improvement. Most importantly, a pilot should generate enough significant wins to build trust across stakeholders and fund a program that will scale.
But in order to find our winning recipe, we need to start by exploring, learning, and testing. Paul Graham (Y Combinator) says it best when in his advice for startups finding product market fit:
Start by doing things that don't scale.
Framing the pilot as a series of incremental expansions helps make the case for continued investment. Like with any kind of funding, setting up milestones and realistic wins will make this a viable investment for program sponsors. How big should that investment be? Just big enough to prove results, but not big enough to break the bank.
Finally, some tips for scoping a pilot:
Identify available and required assets early: Content will make or break the pilot.
Plan campaign touchpoints: As many as needed, along with physical touchpoints (personalised gifting and offers) for each target account.
Plan measurement and testing: Be proactive about acquiring good data. This will make it far easier to be agile while working on the tools.
Measure impact against goals that can identify areas to improve: The first 90 days are about learning and testing, so measurement expectations should be specific, and reasonable.
Bake the plan into a playbook: After aligning with sales, codify the agreed battle plan into a playbook. Lay out the ideal customer journey: What the target receives, who is talking to them and when, and what sales will record in your CRM to automate touchpoints.
Don't spread a net too wide: Focus on a few clear objectives and measurables.
Manage expectations: Communicate with stakeholders continuously.
Most importantly, have fun with it.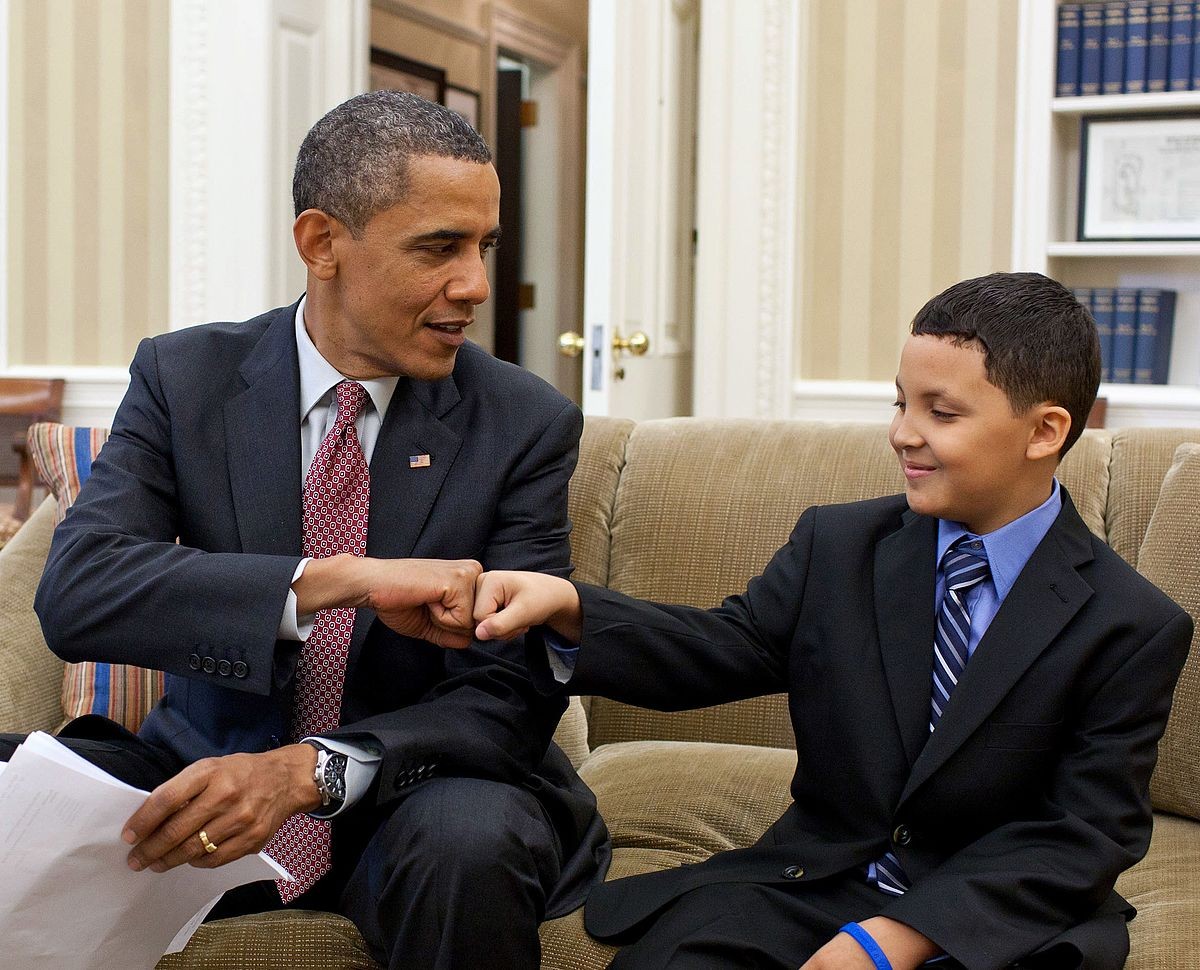 A great ABM program should have the VP's of Sales & Marketing walking out the door high-fiving each other. But I hear fist bumps are more hygienic.
And with that, we're off to a good start. No spreadsheet casualties today.
If you need help with Account-based Marketing for your company, click here to get one of our strategists to get in touch with you.