Logistics & Supply Chain LinkedIn Group Research
The Social Effect has conducted some base research on the existing LinkedIn Groups covering the Middle Eastern 'Logistics & Supply Chain' vertical and the number of senior professionals on LinkedIn within this vertical.
The screenshot below shows the largest LinkedIn Groups within the Logistics and Supply Chain vertical within the Middle East. This is the LinkedIn search string used https://linkd.in/1FrqW1O.
The results show a set of very poorly managed LinkedIn Groups, with virtually no community engagement, leading to the assumption that none of these Groups will be producing any ROI for their owners.
The snapshot below shows existing LinkedIn Groups with a global coverage.
On the global stage, we find the same LinkedIn Groups with a focus on Logistics and Supply Chain are extremely poorly managed. The most engaged LinkedIn Group within this vertical has 123k members and 69 comments, which gives us an engagement rate of .049 (normal engagement KPI's that we aim for are 7%)
Existing Logistics & Supply Chain LinkedIn Group Summary:
Both global and Middle Eastern-specific LinkedIn Groups covering Logistics & Supply Chain, are extremely poorly managed. This presents a massive opportunity to any company that wants to dominate this space within LinkedIn. By creating a highly engaged LinkedIn Community, we don't use the word within the Supply Chain market. Here, we guarantee:

Middle Eastern, Logistics And Supply Chain, Senior Professionals On LinkedIn:
Searching for Job Titles with [logistics OR "Supply Chain"] we see a minimum result of 37K LinkedIn members.
Although LinkedIn shows us 37k+ Supply Chain & Logistics professionals in the Middle East, we need to deduct from this number 17k who are shown as 'entry' and 'unpaid' professionals.
This gives us a total of 20k Senior Supply Chain & Logistics professionals in the Middle East.
At a closer look, we can see that Supply Chain and Logistics in the Middle East as a vertical, is highly engaged and discussed on a number of platforms. We found that Facebook is more prominent than LinkedIn across all metrics – including engagement and audience size.
Here are some of our findings: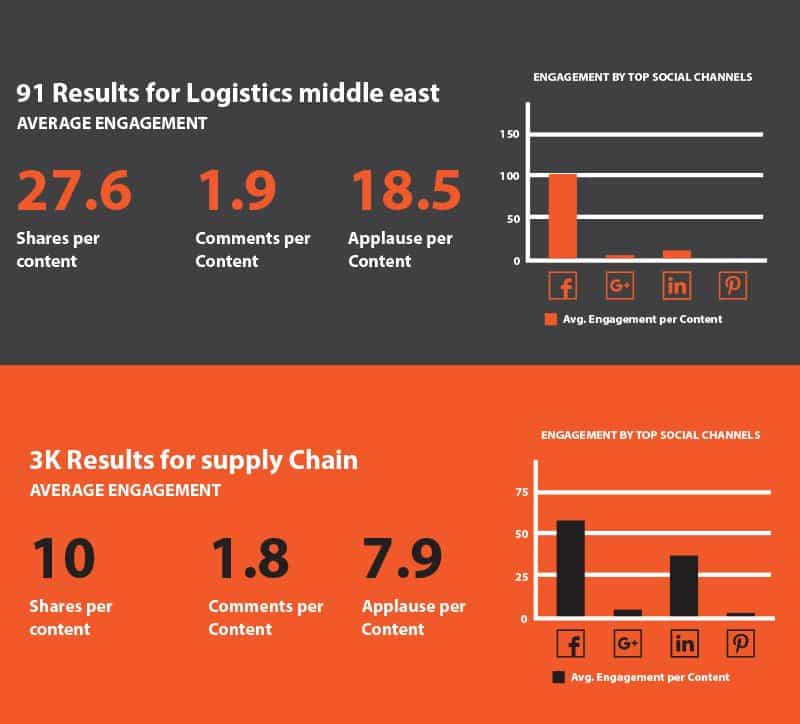 * this selection of stats is spread over a period of 90 days.
Top influences:
If You Were To Run A Social Media Campaign For The Logistics And Supply Chain In The Middle East, Our Recommendations Would Be The Following:
LinkedIn groups are great for in-depth discussions and highly targeted member recruitment. A LinkedIn Group for Logistics and Supply Chain in the Middle East would give you the ability to reach out to industry thought leaders, gain community insights and present sales opportunities. It is also great for collecting a database, building 1 on 1 relationshipsand targeting individuals/companies in your target market.
A highly engaged Facebook page is a key ingredient to any trade show's success. Facebook pages allow you to make your content marketing a gold mine, place targeted ads to drive registrations and cover all aspects of your event in a visually appealing way. You can also gather insight based on the Facebook analytics tool – information which is second to none.
Facebook is the perfect communication medium between you and your attendees, while LinkedIn is invaluable for relationship-building in a professional capacity.
We would recommend a 60/30 (LI group/FB Page) split between marketing budget allocation, as a successful LinkedIn group and a highly engaged Facebook page go hand-in-hand.