We speak a lot about social media marketing as one of the most powerful ways to connect the customer to the brand, and it's been long since established that this relationship is what turns prospects into leads. What we don't speak about as often is the power of connecting the agency to its client.
B2B marketing and B2C marketing are similar but different. Maybe some of you are thinking, marketing is marketing, right? It's all marketing to people, at the end of the day…
Not quite. A person buying a product will have very different emotional needs compared to a person buying for their company. This is what makes our relationship with XBlades a unique one. As a B2B agency, the majority of our work is done in the … yep, you guessed it, B2B space. Working with a B2C means that how we curate content, share posts and provide insights into our clients' media platforms will change according to their emotional needs.
A successful marketing strategy focuses on building a meaningful, sustainable and personalised relationship with the targeted audience to develop a foundation of trust – and this extends to how we connect with our clients. It's safe to say trust is not exactly the easiest attribute to build as it takes consistency in effort, reliability, intentional action and attention to detail as well as a considerable amount of empathy. But when done right, trust creates the potential for something special – Just ask XBlades
Doing Serious Damage
There's something to be said for their name – XBlades are blazing through the industry, leaving their mark as the sought-after sport of the future. The team brings together some of the top drone pilots and technical experts into a single race organisation to showcase their skills and abilities, spreading joy to the masses. In March 2016, 15-year-old, Luke Bannister (@BanniUK) lead the Tornado X-Blades team to victory, winning the Dubai Grand Prix. From that moment onwards, XBlades set the pace and continues to be a source of inspiration to drone racers world-wide.

Hitting all the Right Buttons
TSE has the privilege of being the official team to run and maintain their social media presence – and the results have been out-of-sight amazing (see what I did there?).
In just 3 months, we took XBlades' Facebook page from 1,757 fans – a humble beginning – to an impressive 3, 664.
Similar growth figures were seen across all their social platforms, with a Twitter page growing from only 68 to 639 followers and an Instagram account growing from 48 to over 10k followers.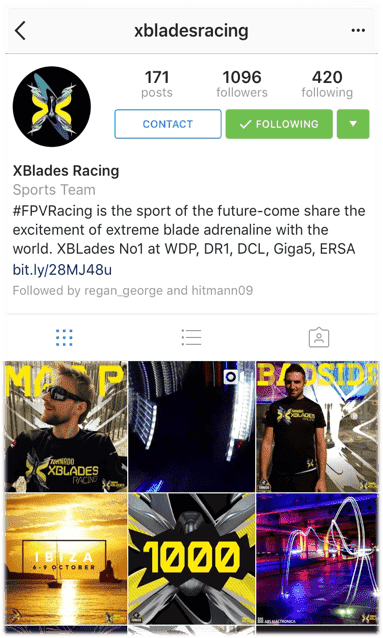 In addition to this, XBlades claims 15 Youtube videos thus far. It is clear that they are slowly infiltrating the masses and making their way into the bodies, minds and hearts of fans – this video is testament to this.
So, what exactly do these figures indicate?
Firstly, that drone racing is really cool.
Secondly, when you get to work with a really cool brand that you've taken the time to understand and nurture, magic happens. Not only is XBlades a brand with the potential for incredible content, but the pilots and greater FPV community are its strongest assets for social media success. This combination, in addition to the solid foundation of trust we harp on about, makes XBlades a supreme client to partner with and has made our job an increasingly memorable one.
High-fliers
Drone racing is where human skill and mechanical innovation meet. Speed, spirit, the rush of the race, the addictive experience – anyone with an affinity for technology, fast vehicles and sexy eyewear will relate. It's unlike anything you've experienced before (unless you've experienced motion sickness… then you're halfway there). Skilled pilots fly quad-copter drones through 3D courses at speeds of up to 120mph. I'd liken it to something out of a video game – with the minor difference being that you run the risk of crashing your £500 investment into a wall. But hey, that's all just part of the thrill! (If you like a good thrill, you should check out the live action on Snapchat @XBladesracing).
I don't mean to drone on but …
Evidently, the partnership with XBlades has taken us on a wild ride. Drone racing is fun, there's no doubt about that – but it's also something to be taken seriously. It's a sports sensation that is selling out stadiums, attracting sponsorships and garnering millions of online viewers worldwide – we're just humbled to be involved in the action. And so I'd like to leave you with these final words.
The sum of the parts is greater than the whole.
The process of forming great collaborations takes time and effort, but if you want to create something unique with your client, you've got to put in the hours. At TSE, this is our fundamental truth because it embodies how we take our marketing strategies to the next level, bringing unparalleled value to our clients. At the end of the day, what comes out of these relationships is based on what we put into them (if you want to know what we put into them, take a look here).
Be sure to check out XBlades on social media – everyone's invited! (I mean we wouldn't want to be anti-social now, would we?).